Your bathroom should be a place of relaxation meant to comfortably unwind at night and freshen up in the morning. It's the place where you begin and end each day and, therefore, this space should not be neglected. No matter your budget, there's plenty that can be done to improve the comfort, convenience and aesthetic of your bathroom. Here are just a few cost-saving renovation tips.
Purchase Materials Before Beginning Demolition
Before you begin your bathroom remodeling project, it is worthwhile to create a plan and set a budget. Decide what renovations are to be made and then determine the total cost. When calculating cost make sure to include every detail, including labor. Once that budget is set and the materials and fixtures are chosen, a great tip is to purchase and receive them before beginning any demolition. This lessens the risk of delays which can result in higher-than-expected costs.
Scavenge Leftover Materials
Material costs can add up quickly and ultimately break your renovation budget, especially if you desire higher-end products like granite and marble counter tops. However, bathrooms typically don't require a substantial amount of material for the counters. You can save money by using granite or marble remnants. The same might be true for cabinetry or tile. Inquire with your contractor about sourcing leftover materials from their previous projects or check out supply yards.
Leave the Existing Footprint
If the existing layout of your bathroom poses no issue, then it is wise to leave the footprint alone. Deciding to relocate the toilet, sink or shower requires considerably more demolition, plumbing and electrical work, which can quickly increase the remodeling budget. Saving money here will allow you to put money toward upgrading these areas instead.
Cut Back on Tile
Save money in the tile department by forgoing a floor to ceiling tile installation. Instead, just use it around the bathtub or shower and install drywall and wainscoting for the remaining wall space. Completely eliminate the cost of tiling shower walls by installing a new tub surround instead. This is a less expensive and time-friendly option. Lastly, by opting out of ceramic tile for the flooring and selecting a more cost-effective material like vinyl, you can cut back on the budget even further.
Remember that Minor Details Can Have Major Effects
Don't underestimate the remodeling effects of budget-friendly bathroom changes like these:
• Update Instead of Replace – Updating or touching up is much more cost effective than replacing full units. Sometimes a replacement seat and lid are all the toilet needs for a fresh look. Also, if your tub is looking dingy try applying a new coat of glaze to revitalize it. These minor updates will also eliminate the additional plumbing fees.
• Paint – Sometimes a simple fresh coat of paint is the answer to your prayers. Chose a brighter or more fitting color for your space and it will feel like a brand new bathroom!
• Open Shelves – Shelves are available at a much lower cost than cabinets and are perfect for small spaces. They keep the space open and light and can be used for both storage and to display accent pieces to spice up a dull space.
• Adding Accents – If you don't quite have a budget for renovations try adding new accent pieces to your bathroom for a new appearance. Bring dimension and pops of color to the space with rugs, shower curtains, towels and window curtains! Replacing a builder's grade mirror with a more interesting or glamorous one can instantly give your bathroom a more luxurious feel!
• Update Accessories – Just like accent pieces, updating accessories, lighting or cabinet hardware will provide a new look for your dated space, creating new style and ambience.
Before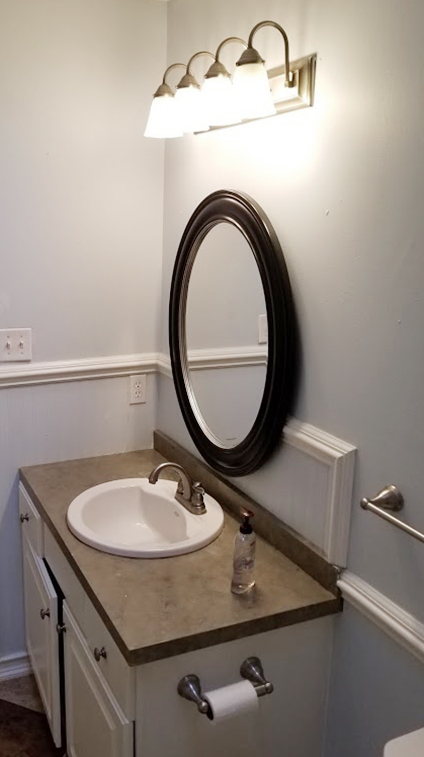 Determine your bathroom remodeling plan and budget, then follow these simple, easy steps to create a whole new look and feel to the space, while saving money when possible.