A deck is the perfect backyard and home addition. This outdoor extension provides extra living and entertainment space, as well as increases the value of any home. We design and install decks that complement a home's architecture and meet lifestyle needs for homeowners throughout Ocean County.
There Are So Many Directions to Explore When Considering the Type and Style of Deck
Design, material and features – there are so many things to think about when planning for a deck. Our experienced team will help you with the selections so together we can create an ideal backyard deck oasis. Here are some of the options to consider:
Deck Designs
• Platform Decks – Platform decks are a great fit for homes with low foundations, so typically platform decks don't require railings, and sometimes even permits. A qualified contractor will advise on the town's building codes and specifications.
• Freestanding Decks – Freestanding decks are usually platform style decks but are not attached to the home due to the structure of the home. A homeowner may also prefer the deck located near the pool or another area of the yard.
• Raised Decks – When a home's main floor is on a raised foundation, the deck must be raised up to meet the threshold of the door, requiring stairs and railings for safety precautions. There will also be exposed foundation posts that can easily be concealed with lattice strips, plants or other creative solutions.
• Second Story – A second story deck is similar to a raised deck except it meets the threshold of the second level of the home instead of the first level. This is popular in homes that have main living areas on the second floor, or for homeowners who desire deck space off a second-story master bedroom.
• Multilevel Decks – Multilevel decks add dimension to your backyard space. They are ideal for backyards that are not flat, as this design allows for the deck to follow the natural curves and slopes of the property. The multiple levels define separate areas for entertainment and function, and are connected by stairways or walkways.
Decking Materials
• Wood – Pressure treated wood is the least expensive option when choosing deck material. Cedar, redwood and pressure-treated pine are all great choices for durability and visual appeal.
• Composite – Composite materials will add more to the budget, but provides additional durability and requires little to no maintenance.
Deck Features
• Fire Pit – Fire pits are a great focal point for the space, drawing guests together.
• Lighting – Set the ambience and provide additional safety for nighttime entertaining with accent lighting on the stairs and walkways of the deck.
• Contrasting Color – Using two color tones on the deck is a new trend that adds dimension and definition. A contrasting color to outline the perimeter of the deck, like a picture frame, gives a nice upscale touch.
We Helped a Family in Brick Build a Second-Story Deck for Their Backyard
A family in Brick wanted to renovate their preexisting backyard space to accommodate more guests for entertaining, while also creating an overhead shelter to allow them to stay dry when enjoying their existing ground-level concrete patio in inclement weather. After our consultation with the client, our plan of action was to build a second-story deck to meet the threshold of their second-floor dining room. The new deck would fit within the footprint of the ground level patio; therefore, creating a roof directly over top like the homeowners wanted.
We built their deck using Trex brand decking and Trex fascia boards, which are composite materials. We build most of our decks using Trex because it offers the best return on investment, lasting longer than real wood with a resistance to rotting, staining and cracking. It also never requires sanding, staining or painting. As law requires, this type of deck requires a staircase and railings. We installed Timbertech composite railings, which are extremely durable, and traditional style railings. Also, since this deck served dual purpose as a roof for the lower level entertaining, we applied CertainTeed solid soffits to the underside of the deck joists for an aesthetically pleasing finish. Lastly, we had to create a direct point of access from the dining room leading out to the newly-built deck, which we finished with beautiful French doors.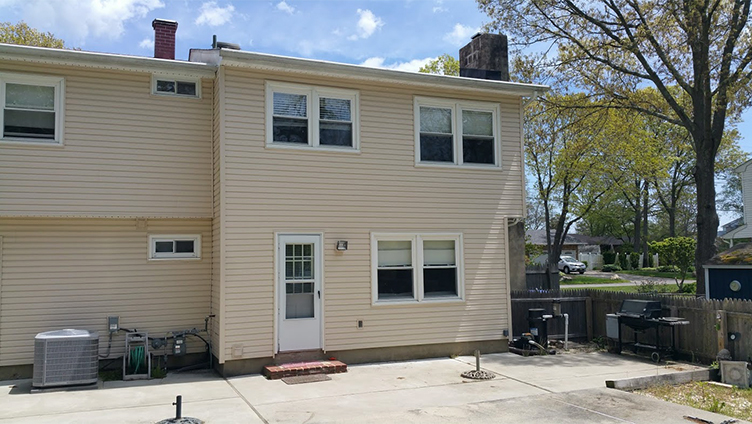 If you're interested in building a custom deck for your backyard, call our team for a free consultation!