Builder-Grade Bathroom Update
Builder grade bathrooms serve their purpose, but rarely reflect the homeowner's style. We recently transformed an outdated, builder-grade bathroom into a cool and calm space with a full room renovation – in only 5 weeks. Updates to this drab bathroom included beautiful tile and fixtures, a double sink and vanity, pocket door entrance, additional storage, and hidden electrical solutions.
Demo of the Existing Bathroom that Minimized Any Mess
Bathroom remodels usually require a full demo of the space, down to the studs and subfloor. At Rasinski Construction, we do our best to contain the debris and mess that often comes with a full room demo. We use drop cloths in the hallways to cover your flooring and hang plastic "zip walls" in doorways. We are meticulous with our floor protection and dust containment. We vacuum up every day – there is no such thing as "broom" cleaned.
Adjusting Issues with the Bathroom's Structure
During demo we found the wall framing wasn't square with the tub. We took the time to correct and any waviness in the walls. When tiling around a tub, other contractors may cut a right angle and fill this area with grout. Not us. We believe in taking the time to get the job done right with a precise cut, with no band-aid solutions!
Adding Additional Storage and Electrical Solutions
Along with the installation of a new vanity, we were able to add more effective storage solutions to this bathroom remodel in the form of a custom tiled wall niche and a new closet system. Hidden outlets were added inside the vanity and drawers to charge shavers, electric toothbrushes, or other bathroom electronics out of view.
Installation of a Pocket Door
Prior to this remodel, the bathroom door swung in and butted up against the closet door in the same area. We improved the footprint of this space by replacing the swinging door with a convenient pocket door to the bathroom entrance, eliminating this dual door issue. A new, fully adjustable storage system was added in the linen closet to replace the fixed storage that was hung before.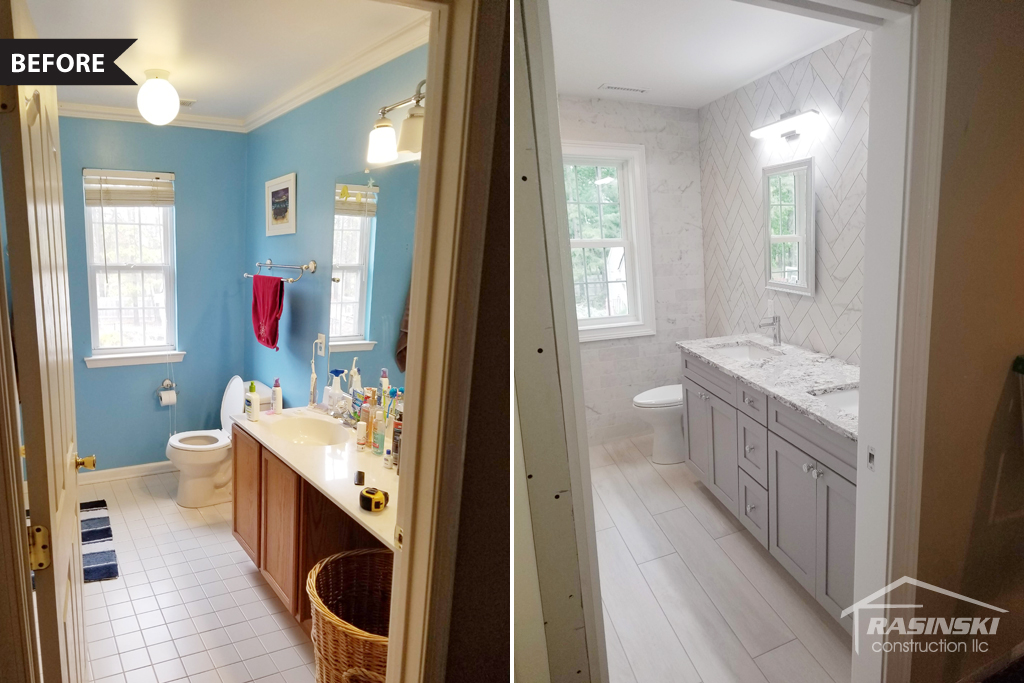 Project Materials:
Flooring Tile – 8″x48″ porcelain in "Broadway" color from Avalon Flooring
Wall Tile – 4″x12″ porcelain in "Bianco" from Avalon Flooring
Niche Tile – Glass – Scandinavia Icicle Palace
Plumbing fixtures- supplied by Ferguson – Grohe brand in polished chrome
Vanity – Welborn cabinetry – color Dove
Vanity top – Custom Granite in Freehold – Cambria quartz in "Summerhill"
Vanity lights – Mirrea 24″ LED
Closet Maid closet components
Wall color – Benjamin Moore "Gentle Grey"