A Basement Remodeling Project in Mercer County, NJ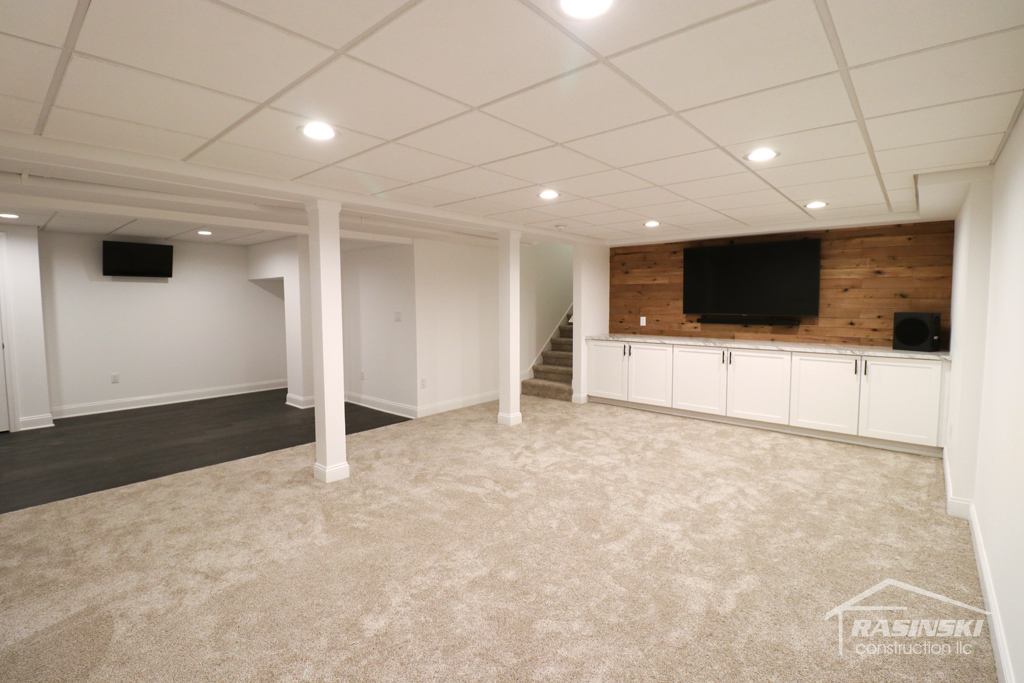 With so much time being spent at home, this Mercer County NJ family was looking to make more useable space from their unfinished basement. In just 2 months, Rasinski Construction was able to transform a concrete floor and wall filled basement into a functional TV room, game area, workout room and separate storage closets for this busy family of four.
Client's Remodeling Requests:
TV/Lounge room
Work out area
Built in storage cabinet
Storage closets
Closet access for the family cat
Building the Foundation
On all basement remodels, we must access the access to the basement area itself, when it comes to bringing in the building materials. A walk out basement or "Bilco" doors is best, but a window is great to pass long items down or through. We review the location or position of the basement stairs to bring down at minimum 4'x8′ boards. This basement in particular had a tough access situation, but we made it work and were able to achieve beautiful results!
In this basement renovation, we started by adding a perimeter of fire blocking with drywall between proposed wall and existing floor joists. Installation of fire resistant materials (in this case, the drywall) was to slow or prevent the spread of smoke and fire between or within building assemblies.
Finishing the Basement: the Magic of Drywall
Once the fire blocking, plumbing alternations, and electrical work were complete, the drywall went up to transform this space from a cold concrete basement to a functional room!
Structural columns were wrapped to blend into this new beautiful space and a drop ceiling was installed with new canned lighting to replace the original fluorescent tubes.
Plush carpet was installed on the stairs and tv lounge area where a couch will go.
Durable vinyl was added to the workout area with a TV mounted on the far wall.
A statement wall was created behind the main TV area with beautiful Weaber Poplar weathered board with built in cabinets and a laminate countertop underneath. This family will now have plenty of board game, DVD and toy storage in this lounge/play space!
We were able to create a back wall in the closet area to hide the basement systems, extra storage and the kitty litter box. We were happy to accommodate Duke the cat in this new family basement space by installing a cute cat shaped kitty door in the closet door.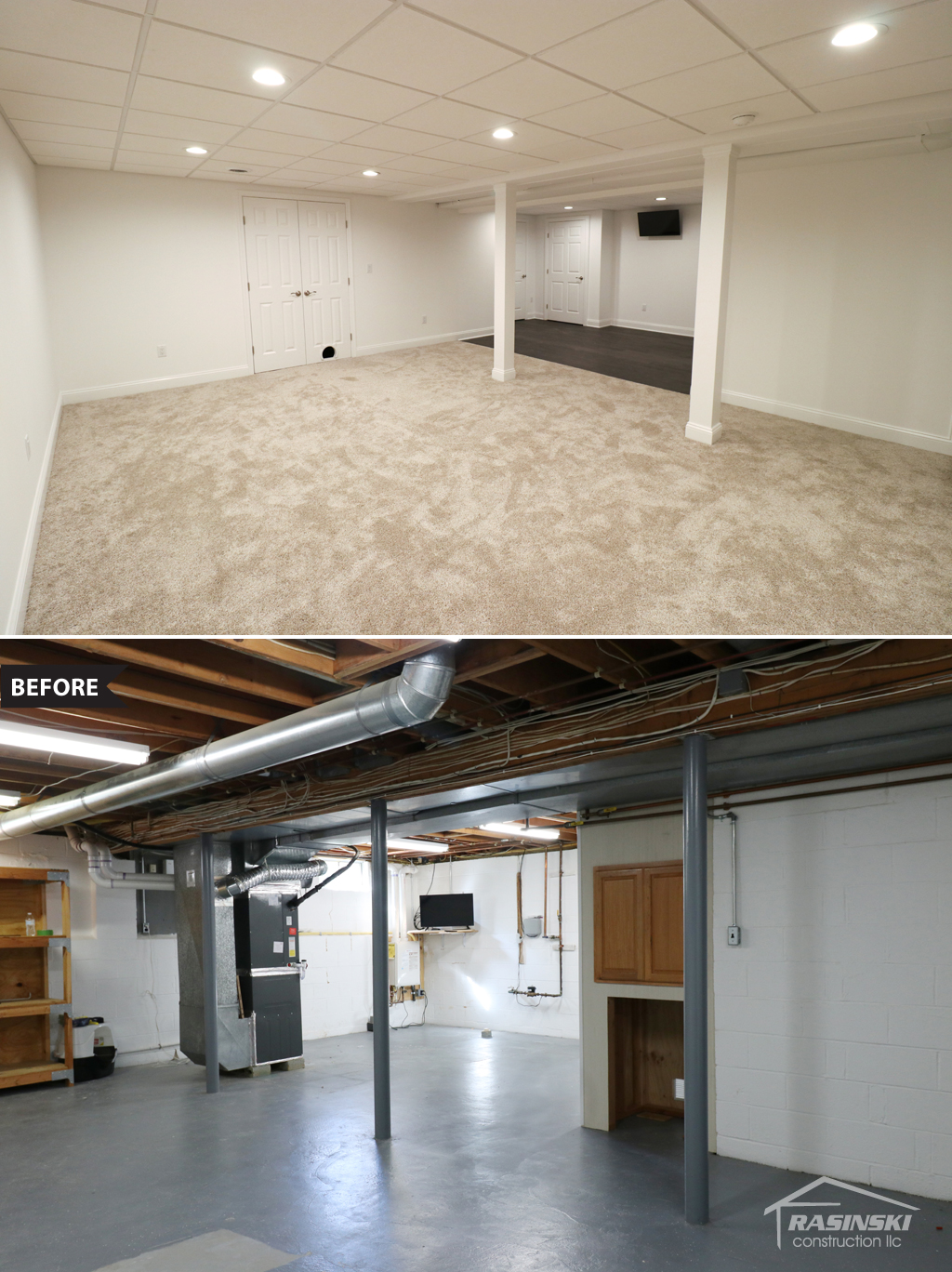 Materials Used in this Basement Remodeling Project:
Cabinetry: Wellborn Saybrook Doors in White Finish
Countertops: Wilsonart Premium Laminate Calcutta Marble
Accent wood: Weaber Wheat Poplar Weathered Board
Ceiling tile: CertainTeed Symphony
Carpet: Dream Weaver Cosmopolitan II in Iron Frost
Laminate Flooring: Vinyl Durato VEVO Max in Roxbury