Let Us Help You Make Your Home Accessible For Aging Parents Or A Loved One With Physical Challenges
Many of today's homeowners are choosing to Age in Place or accommodate a family member's physical handicap by making renovations to their existing home to better meet changing lifestyle needs. It's always important to consult a qualified contractor, who will take the time to understand a family's unique needs and balance the current living space against those needs to make meaningful recommendations that fit an individual budget – whether those are updates throughout the home, or specific handicap-accessible modifications. When you retain Rasinski Construction, you not only get a skilled contractor with over twenty years of experience working on your project, you also get a team that thrives on problem-solving creativity and above and beyond customer service.
A Recent Accessibility Remodel in Toms River, New Jersey
A Toms River homeowner contacted our team with interest in converting the family's garage into a handicap-accessible living space. A medical condition required the homeowner's sister to receive full-time care and modified living accommodations.
Comprehensive Needs Assessment and Design Plan
Like all projects, our renovation process with this homeowner began the moment we first met to understand their unique requirements. This initial meeting allowed us to assess the current layout and condition of the 2-bedroom home, discuss the renovation project objectives and get to know the homeowner and their family.
Following the initial meeting, our architect performed a comprehensive space assessment in order to develop a design plan for the 10' x 19' garage space to accommodate a sitting room, bedroom and bathroom. Then, our construction team went to work. A few renovation issues arose due to off-leveled conditions and rotted structural components. These issues are not uncommon and were easily addressed by our qualified team.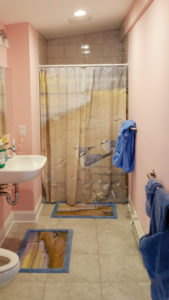 Renovations that Make a Difference
The work that we completed, which included a chair lift and handicap-accessible functionality in the adjoined bathroom, allowed our client's family to remain together under one roof, where they were most comfortable. While we're always excited about a new renovation project, it's most gratifying to deliver on these crucial lifestyle improvements that make a difference in a family's dynamic.
If you're looking to make your home easily accessible, contact our qualified team to schedule a remodeling consultation.